Lets get the important stuff out of the way first:
PLEASE VOTE FOR ME
!!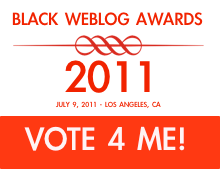 I've been nominated for the 2011 Black Weblog Award for Best Comic/Gaming blog! So please please PLEASE cast that vote for The Illuminate Darkness Experiment as the best Comic/Gaming Blog! It would definitely mean a lot to me!!
Now with that out of the way...
I'm still doing my ethnicity flips of established cartoon characters. The first one in this post is Baroness from G.I. Joe. I used to love this show...especially the little segment after the cartoon where they tried to teach you some life lesson and ended it with
"...and knowing is half the battle"
. Cobra!
This next one is an African-American flip of Inspector Gadget. This is one of those rare occasions where the image looks completely different in your head before you put it down on paper, but you still like it anyway. I think my favorite part of the image is definitely Penny and Brain. I love how they came out, and I just may do another drawing with only those two in it.
Don't forget to cast your vote for The Illuminate Darkness Experiment as the Best Comic/Gaming Blog of 2011!!
Without Wax,